The design of copper composite pipe involves several important points to ensure its functionality, durability, and safety. Here are some of the key design points of copper composite pipe:
Material composition: Copper composite pipe is typically made up of multiple layers of materials, including a layer of copper, an inner layer of cross-linked polyethylene (PEX), and an outer layer of polyethylene (PE). The material composition is carefully designed to provide optimal strength, flexibility, and resistance to corrosion and other types of damage.
Diameter and wall thickness: The diameter and wall thickness of the pipe are designed to accommodate the specific flow rate and pressure requirements of the plumbing system. The pipe should be strong enough to withstand the pressure without rupturing or leaking.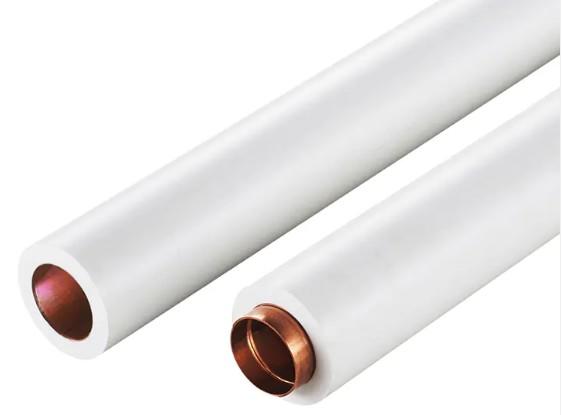 Fitting compatibility: The design of the copper composite pipe must be compatible with various types of fittings, such as compression fittings, push-fit fittings, or soldered fittings. The compatibility of the pipe and fittings is crucial to ensuring a secure and leak-free connection.
Temperature and pressure rating: Copper composite pipe is designed to operate at specific temperature and pressure ratings, which are determined by the materials used and the thickness of the pipe. The temperature and pressure ratings must be sufficient for the intended application to prevent the pipe from failing due to overheating or overpressure.
Corrosion resistance: The design of copper composite pipe includes measures to prevent corrosion, such as using a layer of copper that is resistant to rust and other forms of corrosion. The pipe should also be resistant to other types of chemical and environmental damage.
Durability and longevity: The design of the copper composite pipe should ensure its durability and longevity, with the expectation that it will provide reliable and safe service for many years. This includes considerations such as the strength of the materials used, the thickness of the pipe walls, and the quality of the manufacturing process.
Overall, the design of copper composite pipe should balance the need for strength, flexibility, resistance to damage and corrosion, and compatibility with fittings and plumbing components.